"After School at the Stable"

Change size of text:

A A A
Serving the Conifer, Bailey, Pine, Morrison, Evergreen & Golden, Colorado, communities
[Due to the pandemic, this program will not be offered per se in 2020-21. We are, of course, offering private lessons after school,]
Looking for an after-school program? Centaur Rising (CR) offers a horse riding program that aids self-confidence, improves grades, helps the home school or shy child make new friends and helps the child with ADD (attention deficit disorder) focus.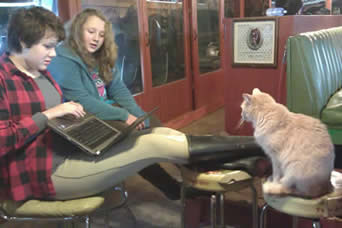 CR's "After School at the Stable" (ASATS) program builds upon what the child has learned in horse riding lessons and horse camp. Since children are encouraged to make a school-year-long commitment to ASATS, the program enables the child to advance significiantly in his/her riding skills. It is also consistent with our long-term commitment to youth development.
The school-year-long commitment to ASATS provides a "horse crazy" boy or girl with the continuity necessary to truly improve their skills. As with many other endeavors, joy and self-esteem come with dedication. ASATS also provides a multi-school social network, a welcome respite from the stress and challenge of own's own individual school environment.
Personal Attention
ASATS has operated since 1992. We have excellent school horses and a comfy indoor arena for year-round riding. A new format in 2019-20 will enable non-riders to participate. In this way we can encourage both friends and siblings to join in!
ASATS is kept small – to maximize the attention and the learning that each child receives. Kris holds a secondary teachers certificate and an MS in counseling – plus nearly 30 years of teaching/training dressage. Every child is different. Kris uses her unique background (and patience!) to work through fear, lack of confidence and frustration. Kris loves teaching kids about horses!