Fred Kappler Clinics

Change size of text:

A A A
Want to jump start your enthusiasm for riding?
Fred Kappler motivates, inspires, energizes.
He makes riding fun again.
He helps you to understand so much about your riding.
He helps you to form a better partnership with your horse.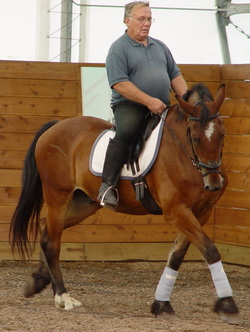 Fred has a great theoretical background for learning.
Fred loves horses-
All breeds, sizes, shapes, disciplines.
He can help you improve any horse.
He rejects none.
Fred enjoys people.
He'll make you laugh.
He'll make you smile.
He believes in you!
How can you pass up a clinic with Fred Kappler?
It doesn't matter what kind of a horse you ride,
your style of riding,
or how well you ride,
or – for that matter- if you've ever sat on a horse before.
It doesn't matter how much you've ridden lately – or if you are afraid – or discouraged.
You won't be any more after you've ridden with Fred!
Fred has been giving bi-monthly clinics at Anchorage Farm continuously since 1997. We serve breakfast, lunch and dinner when he is here. Be sure to join us during meal times, a great time to meet Fred and ask questions. Every Saturday night when Fred is here we have a potluck dinner. Regardless of whether or not you ride, please join us!
Every time we ride with Fred – or even just observe – we learn something new! Don't miss out! Join us!
Our sign up sheet can be accessed from our Events page.